Boston Bruins: No home ice under NHL's Return To Play Plan
The Boston Bruins won't see any home-ice advantage under the NHL 'Return To Play Plan' announced on Tuesday.
Given their regular season record as the best team in the NHL, it will be rather unfortunate and some might say slightly unfair for the Boston Bruins not to have the usual home-ice advantage they'd have in the Stanley Cup Playoffs.
However, this season is unlike any other and that usual advantage of the Boston Bruins skating out to a packed TD Garden is unlikely to play out if and when the post-season eventually gets underway – the current Return To Play Plan certainly doesn't allow for it.
Given the restrictions as a result of the COVID-19 pandemic, it seems highly unlikely that this season's Stanley Cup Playoffs will be played in front of live arena audiences at all.
As for home-ice advantage, the hub city approach will see the Eastern Conference playing their games in one, as yet undetermined, of three cities; Columbus, Pittsburgh or Toronto. The exact city won't be determined until testing ability and government regulations have been sussed out and even then it's complicated.
In a normal season, you'd have to say that missing out on home-ice despite having finished not only first in the Atlantic Division and Eastern Conference, but indeed across the NHL as a whole is a completely unfair prospect and a very unjust reward for being the most consistent team in the regular season.
This season being anything but normal, I think the Boston Bruins' fan-base will end up overlooking any of this, just for the chance of watching so
me hockey and especially with the team still a strong shot at winning the Stanley Cup with David Pastrnak unlikely to have taken a step back, though the older players might struggle to get up to speed.
Fair; maybe, maybe not. It all depends how you see home-ice; is it that you're playing in front of your home fans – if so, this post-season won't be that unfair as there isn't likely to be fans. Is is getting ready in your own comfortable locker-room; if that's it, yes it's slightly unfair and one of the Penguins, Maple Leafs or Blue Jackets will have a slight edge.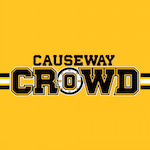 Want your voice heard? Join the Causeway Crowd team!
Write for us!
The waters we're heading into are untested; this post-season is going to be like no other in NHL history if and when it eventually gets started. The sheer fact that we're now talking like the Stanley Cup Playoffs will commence in late July or August certainly highlight the craziness of it all.
Will the Boston Bruins lift the Stanley Cup in October? Maybe. What we do know though is that the planning is very much moving forward. Will whoever wins it always be viewed with an asterisk next to their name? Most probably.
However, if it's safe, I'm all for bringing back hockey. If nothing else, sport is a tremendous release from the world and times we currently live in.