Boston Bruins: Will Jaroslav Halak be back next season?
The Boston Bruins have set the standard for teams to use two goalies throughout the regular season.
Unfortunately for them, Halak has played beyond expectations and could be looking for a pay raise on his next contract. Since signing with the Boston Bruins prior to the 2018-19 NHL season, Jaroslav Halak has been nothing short of spectacular.
It's not very often that a team has full confidence in their backup goalie (just look at what the Toronto Maple Leafs have gone through this season), but that's exactly what Halak has given the Bruins with a record of 40-17-10 since the start of last season.
Unfortunately, that strong play is exactly why this season could be Halak's last in Boston. Other teams around the league have taken notice of the success that the Bruins have had using a goaltending tandem, rather than relying on their starter to carry the workload.
That's why when Halak becomes a free agent on July 1 he'll be one of the most sought after goalies on the market.
In a perfect world, Halak would be back with the Bruins next season. However, the salary cap will be the biggest factor as to whether or not that actually happens.
Halak's current deal has a cap hit of $2.75 million, and he'll likely be looking for at least that same amount, if not more, this summer.
With the team needing to re-sign a handful of pretty important players this year, will they be able to spend upwards of $3 million on Halak? It seems pretty unlikely unless the salary cap jumps up a significant amount this summer.
Another factor that could impact contract negotiations is Halak's age. He turns 35 in May, meaning that any contract he signs will fall under the 35-plus category.
This means that even if he gets hurt or retires, the team he signs with will be on the hook for his salary no matter what. This could impact his potential contract in a few ways.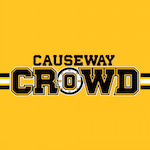 Want your voice heard? Join the Causeway Crowd team!
Write for us!
Essentially, teams will either be forced to take the risk and sign him to a multi-year deal and hope that he's still playing at the end of it, or pay more per year for a short-term deal.
If this is Halak's final few games with Boston, the good news is that the team's goaltending future looks bright.
Dan Vladar currently leads the AHL with a 1.83 GAA and .935 Sv% in 24 games and has helped the Providence Bruins string together an 11-game winning streak. Meanwhile, Jeremy Swayman has played his way into contention for the Hobey Baker Award.
While Tuukka Rask is set to remain the starter for the foreseeable future, the Bruins can look forward to their future between the pipes.