NHL Suspends Tom Wilson 7 Games for Boarding the Bruins' Carlo
Just over 24 hours after delivering a hit to the head area of Boston Bruins blueliner Brandon Carlo on Friday night, Washington Capitals forward Tom Wilson learned his fate from the National Hockey League.
Saturday morning, Wilson had been offered an in-person hearing via Zoom for his hit on Carlo, which sent the 6-foot-5 Bruins defensemen to a Boston area hospital. That hearing took place Saturday night and after the hearing, the NHL gave Wilson a seven-game suspension. The suspension begins tonight when the Caps visit the Philadelphia Flyers. He can appeal the ruling.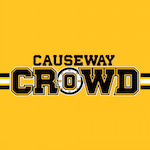 Want your voice heard? Join the Causeway Crowd team!
Write for us!
Wilson, who incredibly did not receive a penalty on the play, is actually suspended for boarding Carlo. The NHL released a video explaining why the suspension was given. Here are a couple of points from the video.
"While there are aspects of this hit that may skirt the line between suspendable and not suspendable, it is the totality of the circumstances that cause this play to merit supplemental discipline," said the Department of Player Safety in the video. What separates this hit from others is the direct and significant contact to a defenseless player's face and head causing a violent impact with the glass."
Again, a penalty was not called on the play.
Capitals coach Peter Laviolette on Saturday defended Wilson and said the hit was a "hockey hit". Of course, he's going to defend his player, but one has to think what his opinion would be if the roles were reversed in this situation.
We know that Wilson will return to the ice following the next seven Washington games, but we still don't know when Carlo might be back. On Saturday, Bruins coach Bruce Cassidy, who very outspoken following Friday night's game and rightfully so, said that Carlo was released from the hospital and was home resting.
Do you think that seven games are enough for a player with Wilson's track record?