Bruins Can Have Limited Number of Fans Beginning March 22
At the end of January, the St. Louis Blues became the fifth NHL team that was allowing fans at a limited capacity to their home games. The Blues joined the Arizona Coyotes, Florida Panthers, Nashville Predators, and the Dallas Stars at the time.
Earlier this month, New York Gov. Andrew Cuomo announced that arenas in New York can have 10-percent (%) capacity at their home games. That meant the Buffalo Sabres, New York Islanders, and New York Rangers could join the teams above with limited capacity in attendance.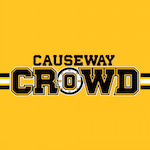 Want your voice heard? Join the Causeway Crowd team!
Write for us!
Thursday, you can add the Boston Bruins to the list of teams that are going to allow a limited number of fans to attend games after Massachusetts Gov. Charlie Baker announced that beginning March 22 that 12% capacity at the TD Garden can have fans in attendance.
Under the 12% capacity limit at TD Garden, the Bruins be able to allow roughly 2,300 fans through the turnstiles. The last Bruins home game that had fans in attendance was March 7, 2020, when the Tampa Bay Lightning beat the Black and Gold 5-3. The NHL paused their season five days later amid the coronavirus.
Boston begins a three-game road trip tonight on Long Island against the Islanders, before two games this weekend at Madison Square Garden against the Rangers. Both of those games will have a limited number of fans in attendance.
The Bruins have played 10 of their first 16 games on the road (Sunday's game at Lake Tahoe was actually a Bruins home game), which means they have several home games coming up on the back end of the schedule with the possibility of fans in attendance.
Boston has five more home games before March 22 that fans will not be in attendance. Their first home game that will be allowed to have fans in attendance is March 23 against the Islanders, which starts a seven-game homestand. The Bruins will have 17 homes after the March 22 date in which fans can attend, before what they hope is a playoff run come mid-May.