Boston Bruins: This season looks likely to be a missed opportunity
As days have turned into weeks since the NHL suspended the season with the Boston Bruins in top spot, it's seeming ever more likely that it'll be a missed opportunity.
The Stanley Cup Playoffs should've been commencing for the Boston Bruins tonight, but with most of the world still in lock-down due to the COVID-19 pandemic, it's seeming ever more likely this year's playoffs may go the way of the 1919 Stanley Cup.
Much as we'd hate to see a recurrence of the Spanish flu pandemic season cancellation that was seen back then, it might well be the safest approach for all involved.
As a result; we, as Boston Bruins fans can only rue the missed opportunity especially as the core of this current group is already of a reasonably high average age.
There haven't been any further real statements from the NHL as to what is going to happen and there was a North Dakota rumor floating around for a while, but it'd be a bold move for the league to go ahead in a climate where people are losing lives across the world.
As a sports fan, you make the argument that sports allows an escape from this current reality. Yes, it absolutely does – there's a reason one of the few remaining sports leagues; the Belarussian Premier League is now drawing soccer fans from across the planet.
Right now, the need to escape though is better satiated by taking a look back at past glories – watching old classic games, re-watching that 2011 Stanley Cup Final, heck re-watching the 1972 one if you're keen!
The NHL, nor any major sports league across the planet, seems unlikely to resume in the near future. The Boston Bruins can at least take some satisfaction from being the uncrowned Presidents Trophy winner this year.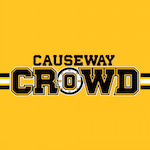 Want your voice heard? Join the Causeway Crowd team!
Write for us!
If nothing else that offers a modicum of comfort and gives us something, however small to shout about should this suspended season end up a cancelled season.
Zdeno Chara grows older by the day but we expect he'll be ultra-keen to lace up the skates again next year, not wanting to fade off into the history books without a proper chance to say goodbye. Tuukka Rask might well be gearing up for his final NHL season too next year; he'll no doubt want to go out on top.
Maybe the age of this group actually means we'll see them fighting even harder next season (if this one doesn't resume) to add their names to the Stanley Cup (in some cases, for a second time) before they retire.
The Boston Bruins shouldn't be angry and shouldn't be upset. They have the right to feel frustrated but this is one of those times where sport is just a tiny part in the much bigger picture of life.