Boston Bruins: Former Bruins forward Colby Cave in induced coma
Former Boston Bruins forward Colby Cave is in a Toronto hospital currently, in an induced coma, after a brain bleed.
Colby Cave, a current Edmonton Oilers and Bakersfield Condors forward who debuted in the NHL in a Boston Bruins jersey, was rushed to hospital after suffering a brain bleed, underwent surgery and still remains in a critical condition in a medically-induced coma.
It's scary to think that a 25 year-old in peak physical condition and with access to the best of medical support, whether as a member of an NHL team or even as a member of an AHL team, is essentially fighting for his life right now.
In a world that is already jarred by the COVID-19 pandemic, it's the last news fans of the Boston Bruins, Edmonton Oilers or indeed hockey fans, in general, want to hear.
The surgery he underwent was to remove a colloid cyst that was causing pressure on his brain and the induced coma is no doubt to aid in his recovery.
Perhaps the most heartbreaking part of all of this is the fact, per NBC Sports, that Colby Cave's family isn't able to be there at his bedside, with restrictions due to the current pandemic limiting their ability to even access the room he's in.
For anyone that has had a loved one suffering in a hospital bed, all you want to do is be able to give them that moral support and physical comfort. It's hard to even imagine what his wife and family are going through.
Harking back to better times, Colby Cave was a nifty find for the Boston Bruins when he signed for the organisation. He'd been overlooked in the draft and found his way to Boston after completing his final junior year with the Swift Current Broncos.
He made his Boston Bruins and NHL debut on December 21st, 2017 against the Winnipeg Jets and saw ice-time twice more that season before heading back to Providence.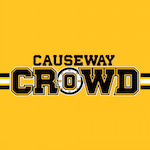 Want your voice heard? Join the Causeway Crowd team!
Write for us!
The next season, he eventually ended up seeing 20 games and managed to notch both his first goal and first multi-point night by adding an assist when the Boston Bruins took on storied rivals, the Montreal Canadiens in mid-December that year.
An unfortunate victim of circumstance, he ended up waived with the intention of sending him back to Providence, only to be picked up by the Edmonton Oilers, his current team.
As has always been the way among the hockey community, countless teams and individuals have shown their support for Colby Cave and his family as he endures this fight. We'd like to join them in sending our thoughts and prayers at this time; it's a struggle nobody should have to endure.