A patched-up Boston Bruins defensive group seemed to do the trick
The Boston Bruins may have been missing two of their key defensemen but that didn't seem to matter, as they recorded a shut-out against a streaking Philadelphia Flyers side.
Entering the game missing both Brandon Carlo and Torey Krug, the Boston Bruins already had a challenge to pull off a result. Add to that the fact that the Philadelphia Flyers were on a nine-game winning streak and looking to hit double figures and you'd have to say the odds were stacked.
With that in mind, the Boston Bruins' result; not only winning by two goals but keeping the Flyers from scoring, is even more remarkable.
The top pairing of Charlie McAvoy and Zdeno Chara was the only regular pair to remain intact, with the other make-shift pairings seeing John Moore partnering Connor Clifton while Jeremy Lauzon lined up alongside Matt Grzelcyk.
Torey Krug's spot on the power-play was handled very ably by Matt Grzelcyk, weighing in with the opening goal on the man-advantage. Perhaps this is why the Boston Bruins should think twice about who they make available to Seattle in a year or so.
You only need look at the hits laid by the makeshift third pairing of Moore and Clifton, who between them tallied eight hits, despite seeing just 14:44 and 12:44 respectively.
Lauzon and Moore stepped up with key penalty-killer Carlo missing also, both seeing plenty of ice short-handed, with the usual suspects McAvoy and Chara tallying their usual minutes there too.
It was actually perhaps a result that relied more upon Tuukka Rask between the pipes than the patched-up defensive pairings, but that is a moot point in all reality.
To leave Philadelphia with such a strong result, especially given the winning streak their opponents had been on, and not only that, but to do it without anywhere near the level of intensity of physicality they displayed against Tampa, is a big statement.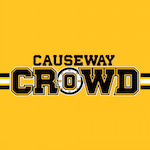 Want your voice heard? Join the Causeway Crowd team!
Write for us!
The statement the Boston Bruins have made is that not only will they not break under pressure, but even when you stack the odds, they won't crack. They'll find a way to win regardless of their line-up's health, which is vital for a play-off team.
Perhaps we saw a preview of a possible Eastern Conference Final last night, especially if the Flyers pick their form back up after this stumble. Right now, they look primed to possibly take out the Metropolitan Division top spot, while the Boston Bruins have Atlantic top spot all but secured.
Obviously regular season standings only play a small part, but you'd think both teams carry some degree of momentum into the Stanley Cup Playoffs if the season ended tomorrow.
If that an eventual Eastern Conference Final match-up does end up being the case, we as fans are in for one helluva great show!