Boston Bruins: Jeremy Lauzon has made John Moore expendable
With the announcement that the Boston Bruins have signed Jeremy Lauzon to a contract extension, it appears as though John Moore could be on his way out of Boston sooner than expected.
Recently, the Boston Bruins announced that they have signed 22-year-old Jeremy Lauzon to a two-year contract extension that will run through the 2021-22 season.
The deal will come with a cap hit of $850K, giving the Bruins some options on the blue line going forward.
Lauzon has only one point in 10 games with the Boston Bruins this season, but has been able to hold his own in the defensive zone and brings a level of toughness that many Bruins fans have been waiting to see more of.
Dropping the gloves against Matthew Tkachuk the other night only did more to endear him to the Bruins fans who have been waiting for somebody to bring that type of physicality back to Boston.
While most left-handed shots prefer to play on the left side of the ice, Lauzon has looked comfortable playing on his opposite side. However, it's unclear whether that move is by choice or by necessity.
The left side of the ice for Boston is pretty set in stone, with Zdeno Chara, Torey Krug and Matt Grzelcyk, so Lauzon's only chance of playing is on the right.
Even then, the Charlie McAvoy and Brandon Carlo are both ahead of Lauzon on the depth chart, and with Connor Clifton returning from injury, the Bruins are getting even more depth on the back end.
This leaves John Moore regularly watching games from the press box. Moore is in only the second season of a 5-year deal worth $13.75 million, but his time in Boston hasn't gone according to plan.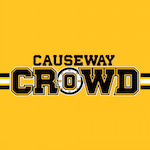 Want your voice heard? Join the Causeway Crowd team!
Write for us!
Now, with Lauzon and other prospects waiting for their shot in the NHL, Moore might be on his way out of Boston much earlier than anticipated.
With the trade deadline now in the past, Moore will be a Bruin until at least the end of this season, which could actually be a good thing for the final stretch of the regular season. If needed, Moore could fill in for a game or two to give Chara a rest once playoff positioning is secured.
While Moore hasn't necessarily done anything wrong, he just isn't needed in Boston. A trade this summer remains the most likely option, especially considering the number of players that the team will need to re-sign after this season.
When it comes down to it, the 22-year-old Lauzon simply has more to offer to the team than the 29-year-old Moore.