Boston Bruins: Trade for Nick Ritchie is a massive over-payment
In acquiring Nick Ritchie from the Anaheim Ducks in return for Danton Heinen one-for-one, the Boston Bruins have massively overpaid.
Nick Ritchie, while he is a decent forward and plays a Boston Bruins and indeed play-off style of hockey, isn't worth a versatile all-rounder like Danton Heinen.
Now, Danton Heinen had his fair-share of naysayers among the Boston Bruins fan base and you could make the argument that a $2.8 million cap hit was an over-pay when it came to the negotiation table.
However, here is a player that had points totals of 47 and 38 points year-on-year despite being moved up and down the line-up like a yo-yo. Even this season, where he'd most recently settled on the fourth line, he still had 22 points up until his trade.
The guy arriving in his place, Nick Ritchie has never cracked a 40-point plus season; in fact last year was the first time he ever topped 30 points. You must reason though that we pay him $1.3 million less per season.
Maybe if we take this deal in the context of it being the second time in a week that we've dealt with the Anaheim Ducks, it feels a bit better. Ondrej Kase and Nick Ritchie for Danton Heinen, the burdensome David Backes contract, our first-rounder and Axel Andersson.
No, actually that feels no better at all; it still feels like the Anaheim Ducks have pulled the proverbial wool over the Boston Bruins' eyes.
I have high hopes that Nick Ritchie can prove us wrong; it's great to have a guy that is willing to show some aggression, has size and actually backs it up. Saving a little money is never a bad thing too given that Danton Heinen was made expendable by this season's emergence of Anders Bjork.
I'm just challenged by the fact that it was a one-for-one deal; I always valued Danton Heinen a little better than that. He figured in that many hypothetical package deals over the years that you always assumed he'd end up leaving in one.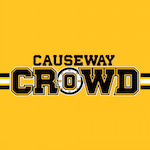 Want your voice heard? Join the Causeway Crowd team!
Write for us!
At just 24, Nick Ritchie no doubt still hasn't quite reached his ceiling and I'd imagine will end up being a nice fit with Charlie Coyle and Anders Bjork on what makes a second strong checking line for the Boston Bruins.
Is it hard to farewell a player, maligned as he was, that was such a useful guy over the past few years – absolutely.
However, onwards and upwards – this deal seems as much about money as anything else. In fact all told, you could argue we're now paying just $300,000 in salary for David Backes.