Boston Bruins: Recent mean streak a sign that the Bruins mean business
The Boston Bruins have been upped the ante in recent weeks, showing a mean streak befitting of play-off hockey.
Suddenly no team is willing to take a run at the Boston Bruins, which is a distinct shift from the earlier part of the season. The team is truly showing it's determination as a group to avenge last year's Stanley Cup Final loss.
Yes, we may be taking a few more penalties, but no player is allowed near our goalie, no check is going to go without one in return.
You only need look at the way the Boston Bruins swarmed Edmonton Oilers' winger Alex Chiasson after he hit Matt Grzelyck nastily last game to realise that this whole team is in it for each other and determined to go all the way.
Among the three Boston Bruins players that went over to Chiasson to share their displeasure was young defenseman Jeremy Lauzon.
He is exactly the sort of player we've been waiting for on the blue-line, playing with some real edge to his game and it could very well be that he proves as good as any trade deadline acquisition in terms of adding physicality and a bit of sandpaper to the third pairing.
Obviously, he still needs to ensure he finds balance in his hitting and physical play as we don't want any further suspensions. If you recall, he spent two games watching on after a late check to Coyotes' center, Derek Stepan a week or so ago.
Far from just being the one player stepping up though, it's been the whole team. Brad Marchand is back doing what he does best; getting under people's skin, both on the score-sheet and in general.
You only need see the war or words in the media between him and the Rangers' Ryan Lindgren to know that he's back to being the pest we love. Exactly the player that teams won't want to face in the play-offs!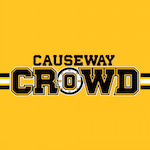 Want your voice heard? Join the Causeway Crowd team!
Write for us!
Nobody has been allowed near Tuukka Rask since his most recent concussion and if anyone does encroach, they promptly feel the wrath of a Boston Bruins player. This is how we need to be to ensure he's protected ahead of hopefully another deep play-off run.
Across the whole line-up, you're seeing Boston Bruins players taking it up a notch; Zdeno Chara may have apologised to Brendan Gallagher since cross-checking him somewhat dangerously on the chin/throat, but on the ice, safe to say he meant it.
Brandon Carlo got into it earlier this month with the Jets' Gabriel Bourque and has been laying hits for fun, namely a great open-ice one on Chicago's Jonathan Toews the other week.
Name a player and you can guarantee they're doing something to demonstrate that the Boston Bruins are determined to do whatever it takes to get back to the Stanley Cup Final this year and go all the way.