Boston Bruins: Zdeno Chara deserved to be fined for cross-check
This may upset some people, but the Boston Bruins captain Zdeno Chara deserved his fine for cross-checking Brendan Gallagher.
There's plenty of reasons Boston Bruins fans could list as to why Zdeno Chara was undeserving of a fine. Unfortunately, in my mind; none of them hold water. A cross-check to an unprotected part of the body, specifically one as fragile as a neck is dangerous, plain and simple.
Now, people may argue that other teams have gotten away with far worse against the Boston Bruins and argue about double standards. They aren't wrong.
Jeremy Lauzon, a first time offender, deserved a slap on the wrist, a fine and a firm cease-and-desist for his somewhat accidental check to Derek Stepan's head. Instead he wore a two-game suspension, that thankfully expired as the Boston Bruins defeated the Montreal Canadiens on Wednesday night.
In that very same game, Lawson Crouse elbowed Charlie McAvoy, connecting with a player square in the head. That drew little more than a 2-minute minor and no follow-up action. In one game alone, the double-standards were highlighted.
You could also make the argument that if Zdeno Chara were facing a man his own size, this would've been a standard body cross-check rather than one to the neck. That is all well and fair; unfortunately, Chara has played long enough to know his size and know that it seldom works like that, especially as players have trended smaller over the years.
A cross-check by itself is little more dangerous than a slash or a hook; it's not on the same level as an elbow or a spear, for example.
However, the neck is an especially vulnerable spot; put quite simply, with enough impact, Zdeno Chara could've left Gallagher with a whiplash-type injury at the very least.
You can argue all day that it was the Montreal Canadiens and the heat of the battle affects players, but that doesn't really fly. Gallagher, regardless of whether we like him or the team he plays for, is a human being and nobody wants to see damaging injuries occur.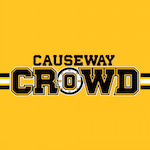 Want your voice heard? Join the Causeway Crowd team!
Write for us!
Luckily on this occasion, despite the danger of a stick impact to the neck, the Habs player looked to be okay. Zdeno Chara will pay a rather minimal fine of just $5,000 and life will go on.
On the play, both Zdeno Chara and Brendan Gallagher were punished, copping co-incidental two-minute minors; for cross-checking and roughing respectively.
Call it how you like; it was the chin and not the neck. Zdeno Chara didn't mean it. Hockey needs contact. However, fact is; this is one example of the NHL's Department of Player Safety getting in right(ish).