Boston Bruins: Anders Bjork is finally proving to be the real deal
When the Boston Bruins drafted Anders Bjork in the fifth round (146th overall) of the 2014 NHL Entry Draft, it's likely they didn't expect a guaranteed NHL player.
However, this season Anders Bjork is doing his best to prove the Boston Bruins wrong on that. Far from just carving out a spot for himself in the line-up, he's now starting to produce some points too.
Of his career 32 NHL points, 17 are from this season. But his point production only tells a very small part of the story; this season has seen a gradual increase in his ice-time; he's increased from 12:40 in the first quarter of the season to 13:20 in this third quarter, in what is a clear sign of growing trust being shown to him.
In the Bruins' last game prior to the All-Star break, Anders Bjork was put on a line with Jake Debrusk and Charlie Coyle, with the trio commanding an exceptional 77.8% Corsi For score when out on the ice; truly tilting it in the Boston Bruins favour.
You can argue that the sample size is too small across one game, but that combination has been playing elite at even-strength going back two more games on that; their last three games prior to the break had them at 73.8% Corsi For.
What is clear is that Boston Bruins head coach Bruce Cassidy, has found the spot to slot Anders Bjork into. No longer is he lurking on the fourth line or on being shoe-horned into the a spot where he doesn't quite fit; he seems now to have finally found two players that he gels with.
Not only that, he's also now being gifted some power-play time; this is something that hadn't really been afforded to Anders Bjork until very recently.
Over the course of this whole season, he's more than just treading water with a Corsi For of 50.05% at 5-on-5 and an expected Goals For of 54.35%. It's telling that both numbers exceed that of an average and very much replaceable player (even if only by smallish margins).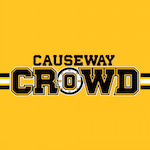 Want your voice heard? Join the Causeway Crowd team!
Write for us!
While he might've been ineffective and only saw a meagre 8 minutes against the Winnipeg Jets, his benching seems to have pumped him up. He grabbed a goal against Minnesota and an assist against both Vancouver and Chicago.
Sean Kuraly slotted in instead of Jake DeBrusk most recently, with Karson Kuhlman claiming plaudits playing up the line-up instead. It's not a bad thing though as Anders Bjork seems to have cemented a place, regardless, on the Boston Bruins' third line.
Not only that, he's shown a knack of finding chemistry, regardless of the teammates. The Coyle, Kuraly and Bjork trio only surrendered 6 chances to the Chicago Blackhawks the other night. Whoever is beside him, he seems to do well!
His development as a valuable roster member could possibly allow the Boston Bruins to move on from Danton Heinen, if that happens to be the cost of improving the second-line. Whether or not that's an agreeable decision for fans is a whole different question.