Boston Bruins: Team lets Zdeno Chara down in 1000th game
Boston Bruins captain, Zdeno Chara would've been disappointed to lose last night, even more so as it was his 1,000th game for the team.
On a night that Zdeno Chara would, no doubt, have not handled differently to any other, the Boston Bruins should've taken it upon themselves to put up a strong and consistent performance; exactly what they long-serving captain has always done.
It did appear to all be going to plan early on too, with the Boston Bruins leading 2-1 at the end of the first period and having stretched it to 5-2 when David Krejci netted midway through the second.
However, from there on out, they did the antithesis of what Zdeno Chara has provided the Boston Bruins in nearly every one of those 1,000 games. Instead of remaining stable, steady, calm, collected and consistent; they allowed the floodgates instead to open.
They panicked and found the scoreline 5-4 before the second was done, with the Flyers eventually equalising with 7 minutes left to play in the third. That Brad Marchand then fluffed his lines in the shoot-out summed up the way the Bruins played in the last twenty-five minutes of the game.
Of course, Zdeno Chara will be one of the first to put a poor result behind him, regardless of the occasion. He will no doubt simply remember it as the moment he joined a small and elite group of players, including team-mate Patrice Bergeron in the Bruins' 1,000 Club.
The result will eventually fade into meaninglessness, it won't linger like the two Stanley Cup Final losses that Chara has captained the team through, nor will it hold a coveted spot like that night in 2011 when he hoisted the Stanley Cup aloft for the Boston Bruins.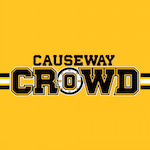 Want your voice heard? Join the Causeway Crowd team!
Write for us!
Perhaps the biggest hope is that he uses the defeat on his big night to spur and challenge his teammates to do more. If Boston want another Stanley Cup Final this year, they need to fix the inconsistency in their play; this loss proving a shining example of it.
Moving on from the result, you might take a moment to reflect on Zdeno Chara's career as captain (in every one of those 1,000 games) of the Boston Bruins. He arrived already with significant years in the NHL on his body and two teams (New York Islanders and Ottawa Senators).
Few would've imagined when he arrived for the 2006-07 season that he'd still be lacing his skates in the 2019-20 season and not looking too out of place. Neither would we have imagined how much of a gain he would be to the team.
In those early years, he was still producing 50-odd points a season and tallying upwards of 100 penalty minutes.
Production, on both counts, has parred back as he's grown older and adapted a game that used to be centered around a booming slapshot and a willingness to drop gloves to one where his incredible reach is a weapon against the much younger speed demons dominating these days.
That said, his 3 fighting majors this season show a certain willingness to stick up for his teammates even as a 42 year-old that really doesn't need to be putting himself out there as someone's punch-bag.
All in all, he has worked hard for every one of those 1,000 appearances for the team. We don't know if this is the final farewell year or whether they'll be another one-year extension come summer, but safe bet is, he won't slack off a single bit. This is a man that played with a surgically repaired jaw last summer, after all!
On the night, it wasn't the way that the Boston Bruins nor Zdeno Chara would've wanted it to go, but we can still be thankful for having him performing for the club for so long.