Boston Bruins: Goaltending has really stepped up in past three weeks
Since conceding 4 goals in the shoot-out loss to the Florida Panthers, the Boston Bruins have received far more stable and reliable goaltending.
For all intent and purposes, it's appears that game was the turning point for the Boston Bruins pair of Jaroslav Halak and Tuukka Rask.
In the 9 games since that Florida loss, Rask has 6 wins from 6 games, whilst Halak has 2 from 3 starts; this reflects a slight adjustment from the early season 50/50 split of the net, but not enough that the Slovakian goalie gets too rusty and is the reason for a loss.
When we look at the pair statistically in the past two weeks or so, both have save percentages well above the league average, with Rask rocking a 0.943 and Halak an even more impressive 0.954, albeit seeing half the amount of ice-time.
Neither has a shut-out in this time frame, but that's not been much of an issue; an overtime win over the Minnesota Wild is the only time that we've conceded more than 3 goals over that spell.
This is shown by the goals against averages both goalies are maintaining for the Boston Bruins. The past nine games see Rask conceding just 1.82 goals per game and Halak just 1.61. Across the whole year, this serves to pump their statistics a little after they took a hit during our losing streak early in November.
Tuukka Rask is only just above the elusive 2.00 marker at 2.04 across the whole season, while his 13 wins are league-leading among goaltenders. Only Darcy Kuemper betters that, league-wide. Halak's 2.35 isn't quite as strong, but still rates 8th among goalies starting 10 games or more.
Good results are built on a stable goaltending foundation. The Boston Bruins are lucky enough to have not one, but two goalies they can rely on most nights. Of late, they're back to their absolute best.
As long as the rest of the team can keep scoring, the Boston Bruins will keep winning, such is the luxury of knowing you're only likely to concede two goals a night maximum.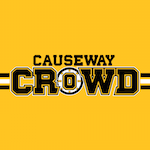 Want your voice heard? Join the Causeway Crowd team!
Write for us!
Should Rask and Halak maintain their form, there's every chance the Boston Bruins will be locking up a playoff spot plenty early this year, meaning they can share the workload in the lead-up to the post-season and be fighting fit and ready for the next-level intensity that comes with it.
More than anything, Jaroslav Halak will be chomping at the bit to see some post-season action having sat out last year due to Rask's stellar form. Not only that, it's a contract year for him, so he'll be seeking to boost his next pay cheque too.
With any luck, December is going to be as good of a month for our goalie tandem as the second half of November! Let's forget about that first week or two though!!