Man oh man, who expected this? I don't think anybody in their right mind could look at this series and say with a straight face that the Bruins would come back to Boston up 2-0 in the series. In fact, if you had told me that, I would've told you what an idiot you were.
But against all odds, the Bruins shut down this potent Penguins offense and have held the to one goal in two games. Yes, you read that correctly. One. Freaking. Goal. Amazing, isn't it?
Well, when you really think about it, not really. You have a mentally fragile Pittsburgh Penguins team. I mean, hell, what adversity has this team faced? They got off to a crap start to the season, but everyone still blew smoke up their rears because their the NHL's darling franchise. Then they went off on a tear, and everyone started fawning over them even more. Add Brendan Morrow, Douglas Murray, and Jarome Iginla to a team already featuring the likes of Sidney Crosby, Evgeni Malkin, James Neal, Chris Kunitz, Pascal Dupuis, Kris Letang, etc. The list goes on and on, and adding those three at the trade deadline only made them even more of a juggernaut. They barely scraped by a young and hungry Islanders team, and only advanced because of New York's lack of experience and Evgeni Nabokov's brutal goaltending. They claimed to have learned a lesson from that series, but when you roll over a Senators team that was practically limping to the finish line, how much could you have possibly learned?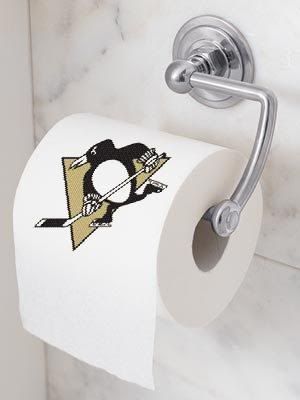 Then come the Bruins. Everybody wanted to know how the mighty Penguins would react to Boston's bullying style of play, and they responded by trying to show everybody how tough they were. Kind of like that kid at recess who was always trying to fight somebody just to show off to everybody else, when in reality nobody liked them. Ever.
The Penguins got caught up in trying to be tougher than Boston, and all the Bruins did was play their game and play patient. And, after just 40 minutes of being shut out in Game One, the Penguins started stomping their feet and throwing a hissy fit. Evgeni Malkin fought Patrice Bergeron. Patrice Bergeron, of all people! Sidney Crosby got in Tuukka Rask's face and threw an elbow and a little slash, then ran away once Tuukka chirped back, only to get in Zdeno Chara's face, at which point he basically shat his pants when he caught Zee's attention.
Credit to my friends over at Days Of Y'Orr for this thing of beauty.
It just proves that these Penguins do not have what it takes mentally to win. They piss and moan and cry and whine when things don't go their way, and then turn around and dive and flop all over the place to get calls.
Fabulous job, Sid. Ten out of ten.
Jump to Game Two, and the Penguins look, well, they looked like absolute crap. There's no other way to describe it.
Just 28 seconds into the game, Sidney Crosby, the best player in the world, throws up this gaf at his own blue line that leads to a Brad Marchand breakaway and a goal to put the Bruins up 1-0. Seriously, the best player on the face of the earth made that God awful defensive play. Jeez.
After that, the Penguins just rolled over and died. Quite literally. Tomas Vokoun was chased from the game in the middle of the first period, and Marc-Andre Fleury came in and was pretty freaking awful himself. He gave up three goals as well. On top of that, the Penguins looked like a team that had never heard of the word defense in their lives. Evgeni Malkin had a chance to break up Nathan Horton's goal, but instead he does a little fly by, a half hearted poke, and then just gives up. Kris Letang, Norris Trophy Finalist Kris Letang, ran around like a chicken with his head cut off in his own zone and was a -3 on the night. You read that correctly. He is a Norris Trophy Finalist.
What a joke.
Not to mention that all night, the NBC crew was nutwashing the Penguins. The Bruins were up 5-1, and they showed a Crosby montage. I mean, really? Mike Emerick and Eddie Olczyk sounded depressed, and Pierre McGuire sounded downright suicidal.
Rumor is that before the Penguins' flight took off for Boston, Dan Bylsma decided to punish Crosby for playing so horrible by making him walk to TD Garden.
Sad Penguin.
The Bruins now have this series in their control. If they come out Wednesday night and win Game Three, this series is all theirs. The Penguins don't have the mental makeup to withstand any sort of struggle, and it's evident in listening to Kris Letang talk about how the Bruins don't actually forecheck, they just get lucky. Yes, Kris, because the Bruins got lucky nine times in two games. Did it ever cross your mind that maybe, just maybe, you just suck?
The Bruins can't let up now, or this Penguins team may find a way to get themselves back in it. Game Three will be the deciding game. Mark my words.
Two final side notes:
How funny is it that a pilot on a Jet Blue flight heard a baby crying on the plane, and asked over the intercom if it was Sidney Crosby? If you ask me, freaking hysterical.
Think Jarome Iginla is wishing he accepted a trade to Boston now?